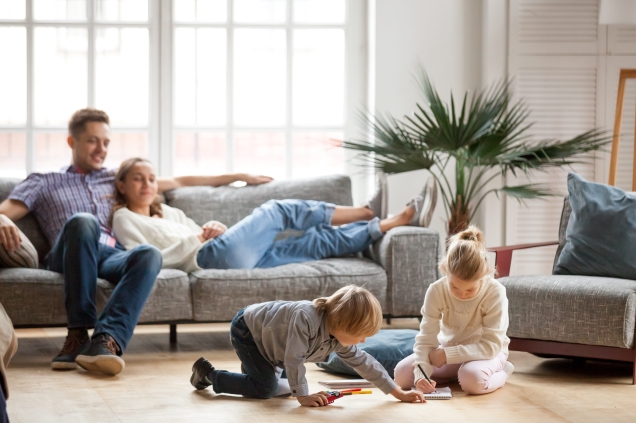 Customer Testimonials
Alicia Moore

⭐⭐⭐⭐⭐

Very kind honest service. Weren't pushy in selling me just anything let me choose what I wanted and pricing was decent.
David

⭐⭐⭐⭐⭐

I was very pleased with the people at Gilbert's. Salesman was very helpful and knowledgeable about their products. Installers were great!
My only problem is the CoreTec flooring. It will not get clean. I use the CoreTec cleaner and spots and footprints will not come off.
Not a reflection on Gilbert's, just on the product.
Laura Horter

⭐⭐⭐⭐⭐

We were greeted immediately, shown many options meeting our need, and got our flooring at a great price. Gilbert's staff and huge selection of options can't be beat.
Joanne Gerst

⭐⭐⭐⭐⭐

The people at Gilbert's are always very informative and helpful. They answer all my questions and frequently give great alternatives. We have dealt with them for years with no complaints.
jbird

⭐⭐⭐⭐⭐

I have nothing but great things to sat about Gilbert's. They are super nice and very easy to work with and talk to and Super helpful. They even helped my co worker load up the flooring.
Sande Oakes-Benson

⭐⭐⭐⭐⭐

The people make this place happy.. I enjoy their repore and the love they give the community...
Rusty Allers

⭐⭐⭐⭐

Very nice and friendly.
Gloria Smith

⭐⭐⭐⭐⭐

Very nice and professional; Randy did my carpet install and he did an AMAZING job! Looks flawless, i highly recommend this company, thank you!
Tim Deam

⭐⭐⭐⭐⭐

Big selection great staff
Kip T.

⭐⭐⭐⭐⭐

Great service, great prices and very down to earth sales personnel.

Description of Work
Window Coverings

Category
Flooring Contractor
Laura O.

⭐⭐⭐⭐⭐

They were wonderful. He was great. I will actually use them again. It was really good; they gave us options. They worked with us great and kept us under our budget. I love my carpet. The old guy that helped me pick up the carpet was great. He was really good. I told him what I wanted and he took me right to is. They saved us $300.

Description of Work
I Used Gilbert's Carpets To Lay Carpeting For Me During A Remodel. They Also Put In Vinyl Flooring In A Very Narrow Hallway And Gave Us A Great Deal On That.
Category
Carpet Installation
Laura O.

⭐⭐⭐⭐⭐

Very friendly & knowledgeable staff. Professional from start to finish.

Description of Work
New Flooring In My Dining/Kitchen & Window Treatments...Couldn't Be Happier With The Service And Installation
Category
Flooring Contractor
Terese E.

⭐⭐⭐⭐⭐

We've never had any issues with any installation, and that is why we remain repeat customers.

Description of Work
We've Slowly Been Replacing Carpeting/Flooring In Our 30+ Year Old House, And Gilbert's Has Been Our #1 Source. Unlike Big Box Stores, Their Selection (And Assistance) Is Outstanding. The Staff Isn't Shy About Steering You Into The Back Warehouse Where Quality Remnants Can Be Found At Reduced Prices. We've Purchased Rooms Of Carpeting That Way, But Are Also Glad To See Brands In The Showroom That Cannot Be Found Anywhere Else Locally. We Fell In Love With Gulistan Carpeting For Our Living Room--A Bit Pricey, But We Have No Regrets Purchasing It. Quality Installation, It Has A Very Elegant Look And Wears Like Iron. Our Sales Rep, Joe Kukla, Has Been Very Helpful And So Is Everybody Else There. They Don't Hover Over Customers Either, But Are Nearby And Ready Should Assistance Be Needed. I'm Glad Our Rural Community Has A Carpeting/Tile Store Of This Caliber.
Category
Flooring Contractor
Kathy Garner

⭐⭐⭐⭐⭐

They are great!
mike birkle

⭐⭐⭐⭐⭐

Great selection and informative
MADE IN THE U.S.A. VOICE

⭐⭐⭐⭐⭐

GAVE US A HECK OF A DEAL!
Cindy Fellem

⭐⭐⭐⭐⭐

Beautiful carpeting, wonderful service.
Dave Wrightsman

⭐⭐⭐⭐⭐

Nice stuff.
Mike Rinehart

⭐⭐⭐⭐⭐

Good selection
Steven Hazekamp

⭐⭐⭐⭐⭐

Very informative
Brendan Denike

⭐⭐⭐⭐⭐
Raymond Gilbert

⭐⭐⭐⭐⭐
Larry Buffin

⭐⭐⭐⭐⭐
Max Gilbert

⭐⭐⭐⭐⭐
Andrew Defever

⭐⭐⭐⭐⭐
Jean Bowen

⭐⭐⭐⭐⭐
Dan Viox

⭐⭐⭐⭐⭐
Mitchell Waite

⭐⭐⭐⭐⭐
HU-144816745

⭐⭐⭐⭐⭐

We got carpet for our camper in Canadian lakes campground this week. Everyone we dealt with Mitch, Brenda, Andrew and his partner were friendly and professional. We recommend Gilbert's especially if you need carpet in your camper since the big box stores don't do that.
Craig & Mary Kay Bethune

⭐⭐⭐⭐⭐

We are so impressed with the level of customer service and attention to detail at Gilberts. We had a total remodel of a 30+ year old bathroom. George and his fabulous staff had to coordinate installation with the plumbing design firm in Grand Rapids, electricians, paint and drywall persons as well. Every project date was met and the floor and wall tile, as well as the vanity top installation of the Cambrian tile went like clockwork. The flooring and wall tile was thoughtfully placed and created a masterpiece. The floor even had to be leveled which was not an easy task. We are repeat customers and this level of quality is exactly why we continue to patronize the family owned and operated business vs any other big box . Along with the bathroom we also had two other rooms carpeted. George and Tom helped at our home make final decisions and counseled us well on wear and traffic patterns. I would highly recommend using Gilberts.